ON World Research Report: Smart Wireless Lighting
Retail Wireless Smart Lighting Increased 150% Over the Past Year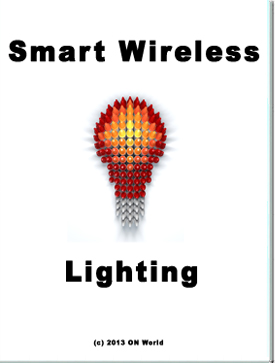 San Diego, CA Nov. 14, 2013-- Consumer adoption of wireless smart lighting is accelerating with dozens of new products, a mass market transformation to LED bulbs and smart device users looking for new applications. Sales in the retail channel increased by 154% over the past 12 months with much of this growth attributed to ZigBee enabled LED light bulbs.Rapid growth in the retail and managed services channels promises to make ZigBee a leading contender for mass market smart lighting solutions. In 2012, the Connected Lighting Alliance selected ZigBee Light Link as the standard for residential wireless lighting controls.
Executive summary
ZigBee Member Meeting in Shanghai, China October 21st-24th
Repr
esentatives of San Juan Software will attend the ZigBee Members meeting in Shanghai, China October 21st-24th. Tim Gillman, Vice President of San Juan Software, is Vice Chair of the Smart Energy Profile 2 (SEP2) Work Group. He is also an officer on the Core Stack (CSG) Work Group. Drew Gislason, President of San Juan Software, is the Chair of the ZHC, co-chair of the ZigBee Cluster Library Development Board (CLDB) and Vice Chair of Home Automation. For more information about the ZigBee Alliance go to
www.zigbee.org

WDD HotSeat: Tobin Richardson on ZigBee Home Automation
Tobin Richardson was interviewed about ZigBee Home Automation by Meaghan
Ziemba on Wireless Design and Development's HotSeat.
See Video
Come See Us At Cedia Expo in Denver
San Juan Software will be in the ZigBee booth (#629) at the Cedia Expo in the Colorado Convention Center, Denver Colorado from September 26-27th.
Free Webinar: ZigBee Home Automation 1.2 - Delivering Peace of Mind through Secure and Energy Efficient Homes.